We've refined our licensing process to make it even simpler and more straightforward than ever before. And now you have four licensing options to choose from – each is designed to reflect your practice and comes with their own set of benefits. Read on to choose the right license for you and to complete your license application.
Why do we have a licensing program at all?
CHEK Institute Trained Professionals set the bar in Holistic Health and Fitness Industries. We want to ensure that all of our students continue to stay ahead of the curve.
To do that, we:
Provide cutting-edge training
Encourage our students to continue to grow their professional skills throughout the entirety of their career.
The CHEK Licensing Program is our way of achieving those two goals simultaneously and rewarding students with additional tools to help them grow their practice. It offers multiple career paths for you to choose whichever is best for your personal and professional goals.
If you missed your renewal deadline by 30 days or more, you need to complete the Late Renewal Process.  Click the button below to begin the process.
If you took your first CHEK Advanced Training Program between December 15th, 2017 – December 15, 2018, you do not have to complete the renewal process! You are already current through December 15th, 2020.
How Do I Renew My License?
Follow these 5 easy steps:
STEP 1
Earn 15 PDCs during the time your license is valid. Include this information on the License Renewal application. Be sure to include the course name, providing organization, PDC value, and date of completion. You do not need to submit proof of completion unless requested by the CHEK Institute.
STEP 2
Complete the CHEK Institute License Renewal Application Form online or call our office to complete the License Renewal via telephone.
If you work for someone who has a CHEK Professional Facility License or CHEK Medical Facility License, please have the facility owner contact us with your information and verification of employment so that we may send you to the proper form.
STEP 3
Pay the annual Licensing Fee as outlined below. Renewal applications will not be accepted without payment.
When you first complete an Advanced Training Program you will automatically receive the Individual Professional License and may upgrade at any time for a nominal fee.
STEP 4
Obtain the following: Current hands-on CPR Certification, Current Liability Insurance, as well as facility, staff, and other information required for your selected License. You do not need to submit proof unless requested by the CHEK Institute.
STEP 5
Submit the CHEK Institute License Renewal Application Form on or before the date your License expires.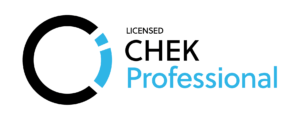 The Individual Professional License (IPL) is for CHEK Professionals who do not have their own work-space such as corporate gyms, online coaching, in-home visits to clients. All students will receive this License upon completing a course.
WHAT IS INCLUDED*
Printable CHEK Professional brochure
Printable business card and letterhead templates
One printable window decal with logo (pictured above)
Digital logo for video, online, and print use
Monthly webinars
Printable patient waivers and forms
Printable assessment forms for Integrated Movement Science Level 1 and higher levels
Quarterly global HUB connections (Coming Soon!)
ADDITIONAL MERCHANDISE ONLY Available to Licensed CHEK Professionals*
CHEK Totem Pole pull-up banner
CHEK Totem Pole hanging banner
Zone exercises/stretches posters (framed option available)
Custom indoor signage (facilities only)
Total PDC's required to renew this license: 15
Licensing Fee: $60 (USD)