Zen in the Garden
Rock and Soul
Work-In to Work-Out!
Meditation, Harmonization, Creativity and Rock Solid Training with Soul
July 24, 2021  |  San Diego, CA
Live with Paul Chek
We have all experienced the deep emotion of seeing, hearing and feeling great musicians, dancers, artists, actors and poets with soul; something unmistakable is moving them, and that invisible but real something is soul – it moves us!Anyone creating from the place of soul will tell you that it can't happen unless we put the ego in the back seat, and let the magic of our soul do the driving…but how do we do that? Why is it only the few among us that seem to be capable of living In-soul? Religions don't teach it; mystics point to it, and books haven't gotten us there or we'd all be In-soul by now, wouldn't we? If you would like to explore the answers to any of these questions, then this special 1-day workshop with Paul Chek is just what you've been dreaming of!
This workshop is being held on Paul's new home and office, on 14 beautiful acres in Rainbow, CA. Come and experience the serenity and peace, while learning from the "Stone Buddhas".
Your day of training with Paul Chek will be offered with work-In training to access and gain soul guidance (soul guidance comes from the personal, collective and cosmic levels of the unconscious mind as well as the Super-Conscious or Higher-Self). Paul will teach several different forms of inner-work to calm, center and transcend the ego to gain access from the soul, or…"your wholeness"… He will teach you how to let your soul guide you in the creation of nature art with stones and other elements from his Rainbow Property; by learning to access and be guided by your soul with stones and other natural items, the ego is not threatened and its much easier to practice soul connection and communication. Paul's essential "Basic Training" for accessing and gaining guidance from your soul are applicable to all aspects of your life, from how to keep yourself healthy, to how to better manage your time, to who to choose as a business partner, who to marry, who to or NOT to have sex with (for spiritual fulfillment), to what path to take for life fulfillment.
After lunch, we will switch to some good old primal conditioning approaches with stones. Paul will show you many ways to use stones to get an incredible workout that goes far beyond anything in a gym!
You will learn the essentials of effective, safe stone lifting for general or athletic conditioning and a number of techniques Paul uses to keep himself and elite athletes in excellent condition.
Once you have learned the basic skills and techniques for a stone workout, Paul will invite you to connect to your soul and let it guide you to creating a rock stack, mandala, or whatever your soul guides you to creating in his beautiful stone lifting area.
Participants should come prepared to get DEEP withing themselves in the morning, and GET DIRTY AND SWEATY in the afternoon…and the food is always amazing as well as Paul's amazing water right from his stone water~charger.
Spaces are strictly limited for this one-day event with Paul.
Register now to avoid disappointment!
All About Zen in the Garden
If you would like to learn simple, highly effective ways to connect to your soul and gain guidance far beyond what the ego can offer, while at once expressing your creativity and cultivating your athletic ability, then Zen in the Garden: Rock & Soul workshop is for you.
Zen in the Garden with Paul is a unique offering for participants to learn first hand how they can create balance, beauty, joy and peace in their lives. In this unique one-day workshop, Paul will teach you how to let your soul guide you, access your instincts, and connect to the wisdom of nature as you co-create with Her.
Zen in the Garden is an opportunity to spend time with Paul in an intimate, small group setting. This unique experience is only offered on rare occasions and now is your chance to live and learn with Paul for a day.
Harmonization
The workshop will begin with harmonization exercises to calm and center us individually, and as a group. From a state of inner-harmony, Paul will teach you how to access soul guidance so that you can work with your soul and the "Stone Buddhas".
Rock and Soul
In this special Zen in the Garden workshop, Paul will show you ways to center and calm yourself, access guidance from your soul and express your creativity while getting excellent fitness in ways that people of all ages and levels of athletic ability can enjoy. 
I spent most of my life (now 59 years long) working very hard at everything. I've applied myself intensively in all that I've done, from learning, to extreme sports and success in dangerous jobs, such as working in logging camps, to being a paratrooper in the 82nd Airborne Division, racing motto cross, stock car racing, drag racing, to being a husband and father, to traveling the world and building the CHEK Institute. Yes, I even worked hard to develop myself through meditation, tai-chi, and Qi-going…BUT, it wasn't until I was drawn to working with stones (I call them "The Stone Buddhas"), as a means of expressing my creativity and creating stone stacks/sculptures that I began to learn things I didn't realize I needed to learn to reach my full potential as a man, artist, achieving greater spiritual awareness, working with my soul, and putting my (sometimes Huge) ego in the back seat so my soul could guide me.

Throughout my life, I've found that when you can't find the answers "out there", its best to look within myself. After studying over 120 books on the soul and asking experts for advice on how to access my soul and getting only vague answers like, "you just have to trust yourself"… I made it my duty to discover the mechanics of how to connect to, listen to, ask questions of, and take guidance from my soul. When I learned how to let my soul guide me, I never felt alone. When I let my soul guide me, I was able to create much more beauty in my life, be it through my art, designing exercise or rehabilitation programs for myself and others, finding my way when lost, healing relationships, writing, teaching, parenting, or making love.

Yes, I've pushed myself hard while creating and training with stones  and I've learned some very tough, painful lessons. Some examples are that all actions come with consequences, and when a finger, toe, or foot gets smashed, it can really wake you up!! I've learned that real balance in life, or in a rock garden, can't come without awareness, presence, patience and commitment to letting things flow naturally. I've found over and over again that the Stone Buddhas are very honest teachers; they will celebrate patience, presence, connection and creativity with you, and they will also be present with you when your ego needs to be put in check! They say little — yet say everything.

In the 13 years I've been consistently working with stones as a means to meditate, express my creativity, and achieve an incredible level of conditioning and connection to nature, I've found that when I find my center, let my soul (consciousness within) guide me, and act from that invisible stillness within the center of my being, amazing things happen! I often look at what I've created in awe. There have been countless times I said to myself, "I could never have done that if I'd tried to "do it myself" (as opposed to doing it with the guidance of my soul and the intuitive guidance I get from the stones and nature).

If I'd only have known what I know now much earlier in my life, oh how many painful, challenging times I'd have saved myself and others from! If you'd like to come join me for a day and learn how stillness moves into action, I'd love to share amazing experiences with you that will influence you and all your relationships for the rest of your life!   
Learning with the Stone Buddhas
Over and over again, elite athletes who have trained or coached with Paul have expressed their amazement that at Paul's "advanced age" he can match and often exceed their performance in the gym, and many have been amazed that he can lift and stack stones that they can't even get off the ground!
Naturally, they always ask, "How the hell can you still train like this at your age?"
Paul's secret? To live in tune with his 4 Doctors (Dr. Happiness, Dr. Diet, Dr. Movement, and Dr. Quiet), and doing regular conditioning with stones. Once they've tried stone lifting with Paul, they "get it!"
Stone lifting is very dynamic, requires deep presence and awareness, balance, coordination, agility, functional strength, and enhances creativity and our childlike expression of ourselves. Stone work can be adjusted so that anyone can participate at their own level, or can get challenging enough to tax even the most strong and powerful athletes and strongmen.
In this special Zen in the Garden event, Paul will teach everyone the essential lessons of stone lifting and guide you through key methods of developing your body, athletic abilities, creative expression, and dynamic meditation with stones.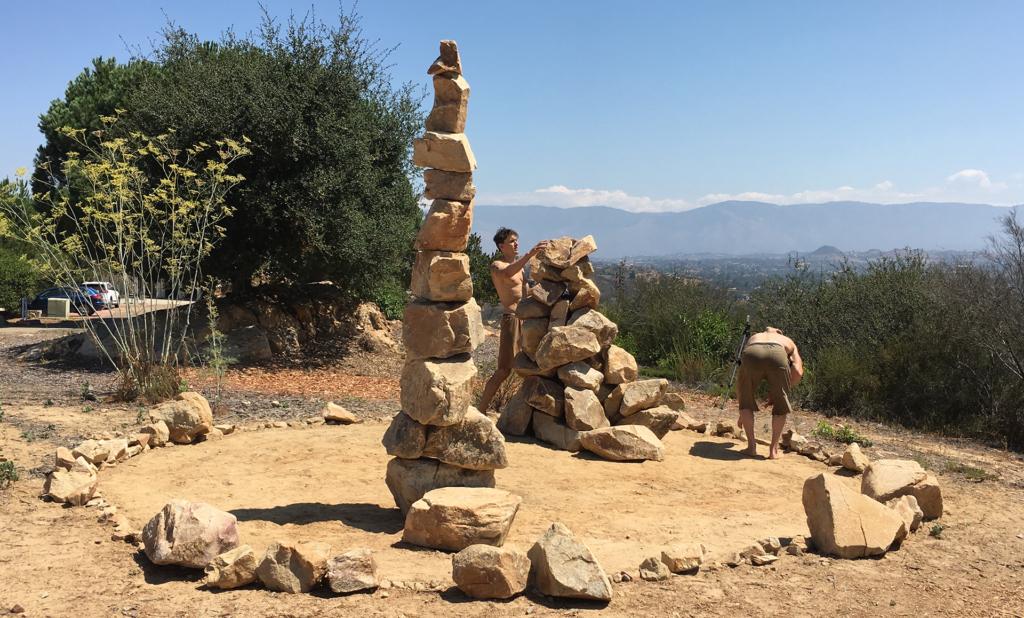 Workshop Time: Saturday 24th July 9:00am – 5:00pm
Times are approximate. We recommend you arrive in San Diego on Friday 23rd July and do not leave until Sunday 25th July to ensure you can fully participate in the workshop. The location is approximately 60-90 minutes from San Diego airport, depending on traffic so if you absolutely have to fly out on Friday evening, you do not want to book a flight leaving before 7:30pm. At previous Zen in the Garden workshops, many of the participants have gone out to dinner together after the workshop, continuing the growth and sharing experiences into the evening.
Cost: US$499 per person
Venue: Paul's new "Rainbow House" situated in the hills to the East of Fallbrook, CA. The exact address will be given to participants upon registering.
Closest Hotels and Accommodation

Pala Mesa Resort, 2001 Old Hwy 395, Fallbrook, CA 92028 – palamesa.com