Zen in the Garden
5 Element Archetypes
Clarifying Your Life Path

January 30, 2021  |  San Diego, CA
Live with Paul Chek and Angie Chek
Turbulent times invite clarity…and we are in some very transformational times indeed!
When we are facing transitions within ourselves,  our life, our relationships, and/or our culture and the world, our ego's response ranges from fear, to feeling frozen and unsure what the future holds or what to do, to emotional reactions and falling into disempowering beliefs and behaviors out of  conditioned habit. But there is SO MUCH MORE TO YOU than your ego, and its preconditioned, reflexive beliefs, fears and programmed responses…
Angie and Paul have lived through plenty of turbulent times in their lives, changes in the world. Both have learned that when we access the wholeness of our inner-consciousness – the incredible processing power of our unconscious mind (about 1 million times more powerful than the ego), and our Higher-Self or "super-conscious mind" –  that what looked scary or even catastrophic to the ego turned out to be an opening to tremendous growth and opportunity.
Paul and Angie have both worked with archetypes (Primal Ideas and forms of information) extensively, and teach the function, use and importance of archetypes in the CHEK Institute's Holistic Lifestyle Coaching Program. In this unique one-day workshop, they will show you a very simple, powerful system of 5 archetypes that serve as functional symbols that connect you to the wisdom and guidance of your soul. With this information, you will gain clarity as to what your aspirations, resources, needs and fears are.
This workshop is being held on Paul and Angie's new home and office, on 14 beautiful acres in Rainbow, CA. Come and experience the serenity and peace, while learning from the "Stone Buddhas".
Spaces are strictly limited for this one-day event. Register now to avoid disappointment!
All About Zen in the Garden
Using the 5 Symbol Archetype system developed by anthropologist and shaman Angeles Arrien, you will be able to gain clarity as to:
Where You Think You Are Now: What you are most aware of, and most comfortable with at this time in your life.
Your Strengths: What strength is predominant in you at this time, whether you know it or not? This is the strength you demonstrate to others without effort but may not even be aware of it. Identifying your strength at this time in your life can be very helpful and give you more confidence in yourself and your life path.
Where You Are: What is your true current growth process…what needs your attention to create freedom and stability in your life? Through the symbol archetypes, we can determine "what is really going on in our life" when the ego often denies, represses or fears the truth, holding us in outmoded patterns of relating to self, other, or the world.
Your Motivation: What past challenges, tests, and circumstances have motivated your current process of change? What triggered you into doing the essential core work you will be doing now, in this important workshop? What needs resolution so you can move on to a Greater expression of yourself, or what have you healed that has brought you to this very point in your life?
Our Unfinished Business: What is your unfinished business…what needs to be resolved, harmonized, or healed so you can get past boredom, patterns of denial, and collect the disowned parts of yourself?
You will leave this powerful workshop with:
A deeper connection to your soul
Much greater clarity as to your unique skills and potentials
A sense of joy and completion from being in nature and creating a living expression of your own symbols
A chance to gain valuable life coaching from Paul and Angie Chek
New, amazing, powerful friendships with other beautiful, interesting people
A new system and skills for using the 5-symbol archetype system of gaining guidance and clarity in your life
Past participants of this workshop found it very enlightening, telling, and amazingly accurate. They all absolutely loved creating something unique and special as an expression of their unique 5 symbol archetype reading on the land, and activating their living symbols with clear conscious intention.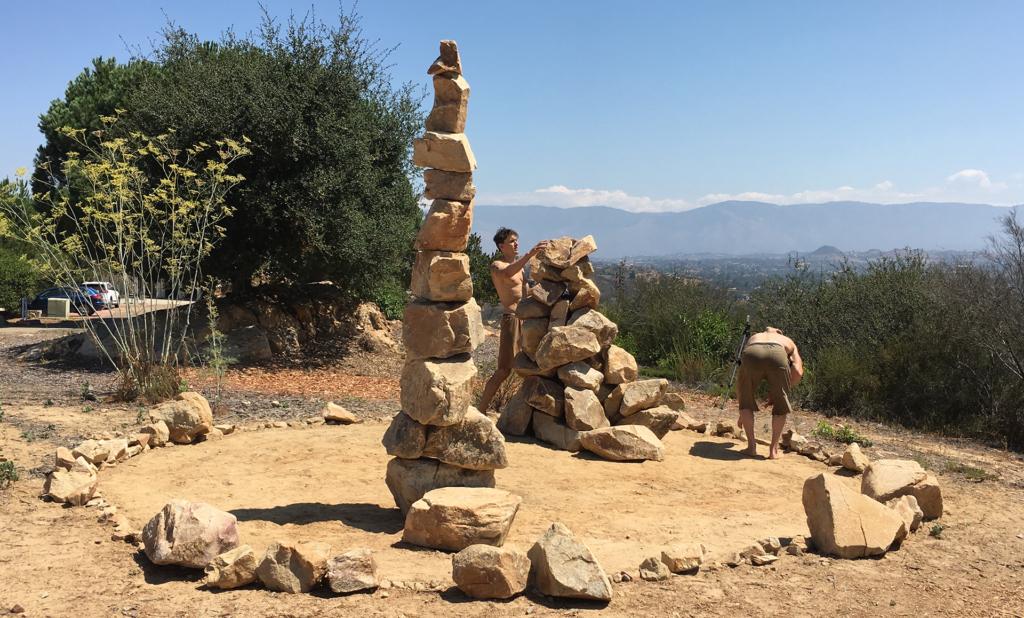 Workshop Time: Saturday 30th January 9:00am – 5:00pm
Times are approximate. We recommend you arrive in San Diego on Friday 29th January and do not leave until Sunday 31st January to ensure you can fully participate in the workshop. The location is approximately 60-90 minutes from San Diego airport, depending on traffic so if you absolutely have to fly out on Friday evening, you do not want to book a flight leaving before 7:30pm. At previous Zen in the Garden workshops, many of the participants have gone out to dinner together after the workshop, continuing the growth and sharing experiences into the evening.
Cost: US$499 per person
Venue: Paul's new "Rainbow House" situated in the hills to the East of Fallbrook, CA. The exact address will be given to participants upon registering.
Closest Hotels and Accommodation

Pala Mesa Resort, 2001 Old Hwy 395, Fallbrook, CA 92028 – palamesa.com
Quality Inn Fallbrook I-15, 3135 Old Hwy 395, Fallbrook, CA 92028 – choicehotels.com
Pala Casino Spa and Resort, 11154 CA-76, Pala, CA 92059 – palacasino.com
Temecula Creek Inn, 44501 Rainbow Canyon Rd, Temecula, CA 92592 – temeculacreekinn.com
Closest Commercial Airports
San Diego Int'l Airport (58 miles S)
John Wayne Airport, Santa Ana (75.5 miles NW)
Transportation and accommodation are your responsibility.
Who Should Attend?
Zen in the Garden is:
Registration is on a first-come-first-served basis. Due to the unique nature of this program, there are no refunds or transfers once you have registered for this program, so please make sure you can attend before registering.
What's Included:  A full day with Paul and Angie Chek in a small group setting with a pot-luck lunch.
This is a physically active workshop and you should be in good physical health to fully participate and get the most out of your day with Paul.